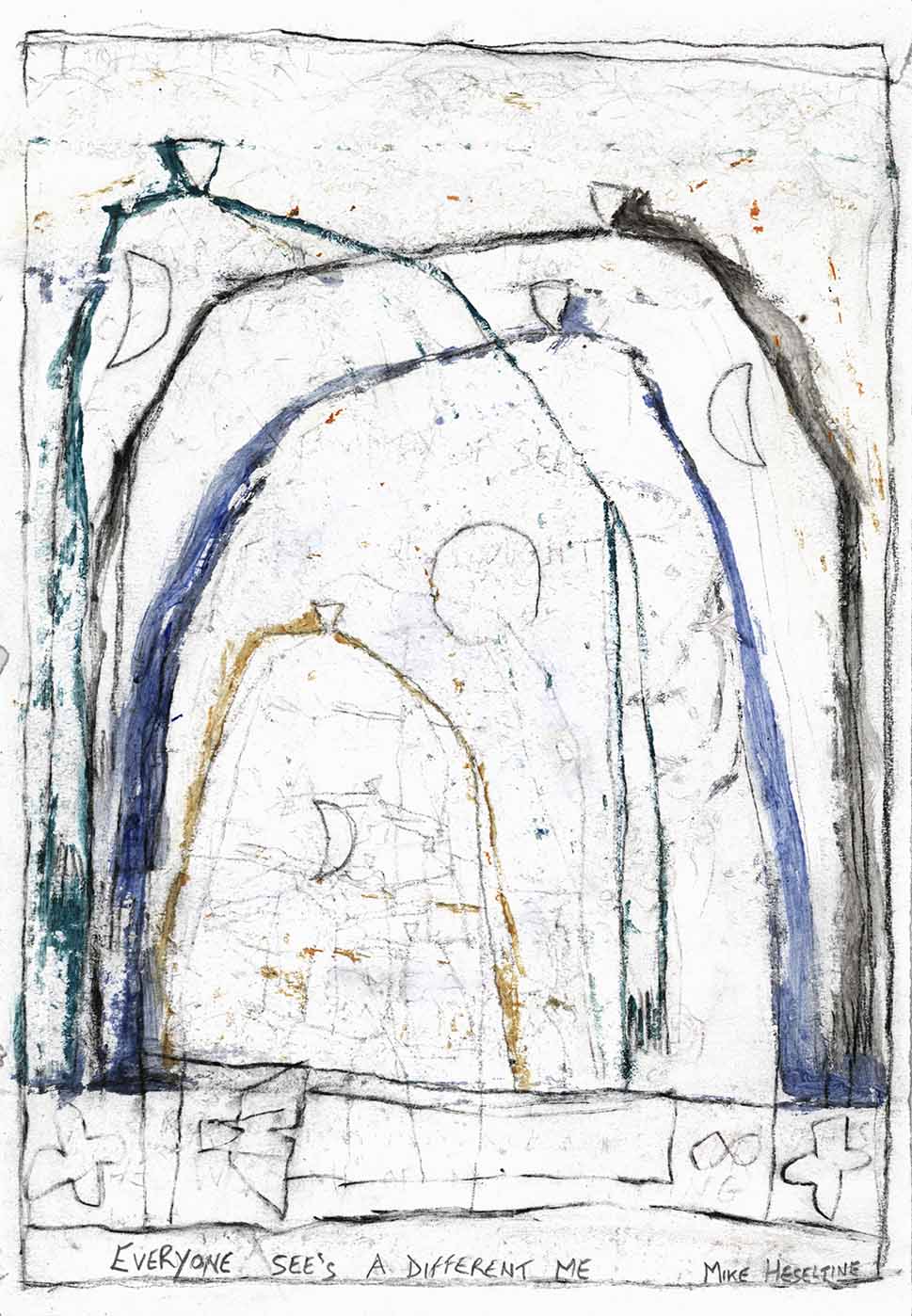 Everyone sees a different me.

We simply do not know how people see us. They look through the lens of their own unique experience, culture, education etc. Despite our best efforts, everyone will see a different version of us, or perhaps more accurately, a reflection of themselves. I find it very difficult not to be concerned about how I am perceived, but it is none of my business and I try to let the worry go. I find Buddhist teachings about letting go of the 'self' helpful. Once we start creating an identity for ourselves, we create an ego and ultimately the maintenance of that ego creates suffering. The concept of 'no self', or being empty of a separate identity, does not mean that nothing exists, but that we are all connected and all inter-dependent. What we think is the real me or the real you is all illusion created by our thoughts.

In the drawing, different versions of me are contained within the figure. They are each a product of a different time, signified by a moon or sun. They are just the perceptions of others, and a larger figure encompasses all these different perceptions. Perhaps the larger figure is a universal consciousness, within which we have our own temporary identities. However, ultimately we come together with no thoughts of individuality in the tomb.

Limited Edition signed print.
£85 including p&p (Frame and mount not included).
Hand signed and numbered prints limited to a total run of 500.
Archival Giclee print on acid free 220g/m2 high quality watercolour paper.

Archival Giclee prints are produced using very high quality inks producing a high level of quality and longevity. The above image is an example of the type of framing we use but please note the frame and mount is not included in the price. The actual size of the image (including a margin to show the signature and number) is 20.5cm x 29cm.

We recommend you frame your print with a deep mount of approximately 10-15cm and a simple wooden frame. This makes the overall frame size approximately 45cm x 55cm.

Delivery is included in the price. Your print will be sent in a strong tube to the 'shipping information' you provide during the paypal purchase procedure. Any problems, please contact me at

Please begin purchase by clicking through to Paypal.....
---
---
Home | Contact: